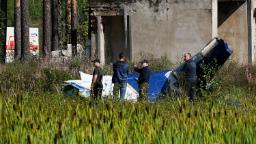 The US believes Wagner founder Yevgeny Prigozhin was "likely" killed in a plane crash outside Moscow on Wednesday, Pentagon spokesman Brig. Gen. Patrick Ryder said Thursday.
"I'm not going to go into the specifics of how we gather information other than again, our initial assessment, based on a variety of factors, is that he was likely killed," Ryder said.
Ryder also said the Pentagon "doesn't have any information to indicate right now" that the plane Prigozhin was on was shot down by a surface-to-air missile.
Earlier Thursday, four US officials told CNN there was no indication the plane was downed by a missile.
The US intelligence community is still in the early stages of assessing the cause of the crash. Officials cautioned that it's too early to draw any conclusions, but a number of possibilities are being evaluated, including an on-board explosion causing the crash.
Another source familiar with the Western intelligence echoed the US officials, saying there was no indication a missile was launched.
Officials said the US had not seen any information to indicate that the Embraer Legacy 600 aircraft was struck by either a surface-to-air missile, which would be launched from a Russian aerial defense system, or an air-to-air missile from a Russian fighter jet.
People familiar with the intelligence do believe the downing of the plane was deliberate and the goal was to kill Prigozhin. How soon Russian President Vladimir Putin might try to kill the Wagner chief was hotly debated in the days and weeks following the June 24 rebellion, more a question of when than if.
"I don't know for a fact what happened but I'm not surprised," President Joe Biden told reporters on Wednesday. "Not much that happens in Russia that Putin is not behind."
Read more here.