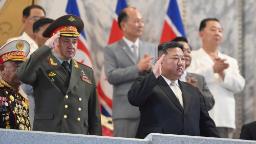 CNN
 — 

Russia and North Korea are "actively advancing" their negotiations over a potential arms deal that would provide significant ammunition for different types of weapons systems, including artillery, in the latest indication that the Kremlin is desperate to obtain further materiel for its faltering invasion of Ukraine, according to newly released US intelligence.
The news of the potential deal comes despite North Korea's public claims to the contrary.
The Biden administration said Wednesday that they remain concerned that the two pariah states are in the middle of arms negotiations and that, following Russian Defense Minister Sergei Shoigu's trip to North Korea last month, a second delegation of Russian officials have visited Pyongyang for further discussions on a potential deal.
In addition to the second delegation, Russian President Vladimir Putin and North Korean leader Kim Jong Un have exchanged letters "pledging to increase their bilateral cooperation," according to National Security Council strategic communications coordinator John Kirby.
"We remain concerned that the DPRK continues to consider providing military support to Russia's military forces in Ukraine and we have new information which we are able to share today that arms negotiations between Russia and the DPRK are actively advancing," Kirby said. "Following these negotiations, high level discussion may continue in coming months."
The public disclosure of the new intelligence is the latest example of how the Biden administration plans to continue to publicize Russia's efforts to avoid Western sanctions and source weapons for its war, as well as put North Korea on notice that the US is closely monitoring these efforts. It is also the most detailed evidence provided in recent months of Russia's outreach to North Korea to help fuel its invasion of Ukraine.
"Under these potential deals Russia would receive significant quantities and multiple types of munitions form the DPRK, which the Russian military plans to use in Ukraine. These potential deals could also include the provision of raw materials that would assist Russia's defense industrial base," Kirby said, pledging that the US would take direct action to sanction any entities involved in a potential deal and urged Pyongyang to cease the negotiations.
Earlier this month, the US Treasury sanctioned a sanctions evasion network aimed at supporting arms deals between Russia and North Korea.
Kirby also said Russia's attempts to source weapons from places like Iran and North Korea was a clear signal of Moscow's distress.
"There is no other way to look at that than desperation and weakness, quite frankly," Kirby said.
Linda Thomas-Greenfield, US ambassador to the United Nations, also accused Russia and North Korea of negotiating an arms deal during a Security Council Stakeout on Wednesday.
Greenfield called it "shameful" and a violation of Security Council resolutions approved by Russia.
At the end of last year Pyongyang delivered infantry rockets and missiles to Russian mercenary group Wagner for their troops in Ukraine and Western officials have said that Iran has supplied Russia with weapons for use in Ukraine. Iran and North Korea have both denied these claims.