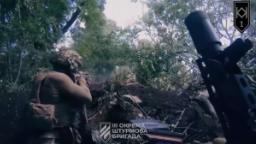 Two foreign aid volunteers have been killed and another two hospitalized in Russian attacks in eastern Ukraine, Spanish and Ukrainian authorities said.
"As of now, we know for certain that Canadian citizen Anthony Ignat was killed. Unfortunately, a Spanish citizen, Emma Igual, is also likely to have been killed," President Volodymyr Zelensky said in his Sunday evening address. 
Emma Igual, a Spanish aid worker and director of the NGO Road to Relief and Canadian citizen Anthony Ignat were traveling in the direction of Bakhmut when their vehicle was hit by Russian shelling near the town of Chasiv Yar in Donetsk region, according to Zelensky and Road to Relief.
Two other foreign volunteers, German citizen Mawik Ruben and Swedish citizen Johan Mathias Thyr, were hospitalized in Dnipro and are receiving medical care, Zelensky said.
The President said the vehicle took "a direct hit from an anti-tank missile system."
The Ukrainian Ministry of Defense released a statement confirming the volunteers belonged to an organization called Road to Relief, which focuses on evacuating civilians from the Ukrainian frontline and is in the country in a strictly humanitarian capacity.
On Saturday, Spanish Foreign Minister José Manuel Albares said a Spanish aid worker had been killed in eastern Ukraine after a projectile fell on the vehicle she was traveling in.
"We have verbal confirmation of her death, and we are now seeking certified confirmation from the Ukrainian authorities of her death," the foreign minister added. 
What happened: In a post on its Instagram account, Road to Relief provided an account of the attack, saying that four team members set off from Slovyansk in the direction of Bakhmut in eastern Ukraine on Saturday morning. 
On their way into the city of Chasiv Yar, the team's vehicle "came under Russian attack," the post said, adding that after being hit, the vehicle flipped over and caught fire. 
In the post, the NGO said Canadian volunteer Anthony "Tonko" Ihnat was also killed in the attack.
The remaining passengers, German medical volunteer Mawick and Swedish volunteer Thyr, have both stabilized after being "badly injured with shrapnel wounds and burns," Road to Relief said.