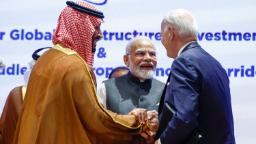 Editor's Note: A version of this story appears in CNN's Meanwhile in the Middle East newsletter, a three-times-a-week look inside the region's biggest stories. Sign up here.

Abu Dhabi, UAE
CNN
 — 

US President Joe Biden, along with leaders of India, Saudi Arabia and the United Arab Emirates, announced on Saturday the launch of a new trade route connecting India to the Middle East and Europe through railways and ports. The White House said the project would usher in a "new era of connectivity."
Some analysts are saying it will be a direct challenge to China's Belt and Road Initiative, a multi-trillion-dollar infrastructure project launched a decade ago by Beijing with the aim of connecting China to the rest of the world.
Announced at the Group of 20 (G20) summit in India, Biden's plan also includes the European Union, France, Italy and Germany. It is comprised of two separate routes – an east corridor linking India to the Gulf Arab states and a northern corridor connecting the Gulf states to Europe.
The ambitious plan shows that the US can count on its Middle East allies in its efforts to contain China's rise, but also how the Gulf states try to find a balance between traditional allies like the US and emerging partners like China in what they see as a world order that is no longer unipolar.
At the same time, they are positioning themselves as essential economic and political partners to the world's most powerful states.
"Thank you, thank you, thank you," Biden told UAE President Mohammed Bin Zayed (MBZ). "I don't think we would be here without you."
Goods and services would transit through the UAE, Saudi Arabia, Jordan, Israel and Europe. The route will also enable electricity and digital connectivity, as well as pipes for clean hydrogen export.
Seated between Indian Prime Minister Narendra Modi and MBZ, Biden said the agreement announced at the summit was "a big deal."
"The world stands at an inflection point in history," Biden said, adding that investment in the plan today is more critical than ever.
Israel, which has made it a priority to normalize ties with Saudi Arabia, also hailed the project, saying it "changes our global and historical situation" and advances the vision of "joining Israel to the world."
Notably absent from the summit was China's Xi Jinping, who has never missed a G20 summit since taking power in 2012, and whose country has been strengthening ties with Gulf Arab states.
An alternative to a 'debt and noose' agreement

Some analysts say the corridor intends to challenge China's Belt and Road Initiative (BRI).
Beijing launched the massive infrastructure project in 2013 and has poured around $1 trillion into its projects so far. Beijing last month said that, over the years, it signed BRI cooperation documents with more than 150 countries and more than 30 international organizations.
However, the plan has faced problems, including funding shortfalls and some political pushback, which have stalled certain projects. China has pushed back on assertions of risky lending when it comes to BRI, saying "such allegations do not reflect the whole picture."
Biden last month called China's BRI a "debt and noose agreement," which the US and Group of Seven (G7) nations hope to counter with alternatives.
"We got together literally billions of dollars in the G7 nations to provide for alternatives to China's – what they call Belt and Road Initiative, which is basically a debt and noose agreement that they have," Biden told donors in August at a campaign reception in Salt Lake City, Utah.
But on Sunday, Biden said he was "sincere" about improving the US-China relationship, pushing back against comments out of Beijing that the president's trip to India and Vietnam seemed focused on containing China's influence in the Indo-Pacific.
"I don't want to contain China, I just want to make sure we have a relationship with China that is on the up and up squared away, and everyone knows what it's all about," Biden told reporters traveling with him in Vietnam, adding that he wants to see China succeed as long as it succeeds "by the rules."
The question remains whether a new trade route in the region would complement China's BRI or compete with it.
Cinzia Bianco, a visiting fellow at the European Council on Foreign Relations think tank in Berlin, said that there likely isn't enough trade volume in the region to make both Biden's project and China's viable at the same time. "The heart of the matter is that it is an alternative (to China's BRI)," she said.
The partners in the new trade route also have both the funds and the political will to bring the project to fruition in a sufficient enough time to be able to challenge the BRI, Bianco added.
But three of the nations in the new corridor are already members of China's BRI, and may find themselves in an awkward position for having joined a project that is widely seen as being designed to undermine Beijing's plans. Both Saudi Arabia and the UAE are already members of China's BRI, along with Italy, the only G7 nation to have joined.
Italian media however reported Sunday that Prime Minister Giorgia Meloni was looking to bolster ties with China whilst seeking a "soft" exit of China's BRI, which Rome joined in 2019.
Bianco said Italy's BRI membership is an "anomaly," and that Meloni was bound to withdraw.
For the UAE and Saudi Arabia, however, the India-Middle East-Europe corridor isn't necessarily a replacement to the BRI, experts say.
The corridor is "a manifestation of the global connectivity agenda the UAE and the region (are) perusing," Mohammed Baharoon, director general of the Dubai Public Policy Research Center, known as B'huth, told CNN. "It will complement, more than compete with China's BRI since both of them are attempts to facilitate the movement of goods (including energy) money, people and data," he said.
Baharoon added that the project, if perceived as a "replacement" or "competitor" to China's BRI, would fail to realize its potential.
Bianco said that the Gulf states' decision to join the new project may also be driven by the slowing of China's economy, prompting them to "put their chips in different games and see what happens first."
The G20 summit and Biden's economic corridor come just weeks after oil-rich Saudi Arabia and the UAE were invited to become members of the BRICS group of developing nations.
The group currently includes Brazil, Russia, India, China and South Africa, and its first-ever potential expansion in a decade has been seen by some as a challenge to the US' global influence.
Despite pressure to choose sides, Gulf states have insisted that they maintain a balanced position that involves political and economic cooperation across the board, something that analysts say makes Gulf states strategically vital.
A senior UAE official previously told CNN that from Abu Dhabi's perspective, "joining BRICS is about extending and enhancing our diplomatic circle."
"We look at BRICS from a geo-economic not a geo-political perspective, with the aim of strengthening our economic competitiveness," the official said, against the backdrop of pouring commentary about Gulf states siding with the East.
Meanwhile, Gulf states aim to continue to remain relevant to all sides.
"Gulf countries are using this multipolarity and this new world (order) to try to put themselves at the heart of global trade, trying to invest even more in connectivity and globalization," Bianco said.