CNN
 — 

Mohammad Al Shanti is forced to travel nearly four miles to Al-Aqsa Hospital in central Gaza to fill up plastic bottles with water. It's only enough for his family's most basic needs.
"We don't wash our clothes, we save every little drop," he told CNN, describing the water situation as "catastrophic."
Finding clean water is becoming an all-consuming – and increasingly difficult – challenge for many Gazans.
Hamas' brutal attacks in Israel on October 7 killed at least 1,400 people and the group took more than 200 hostages, according to Israeli authorities. In the wake of the assault, Israel launched an aerial bombardment of Gaza that Palestinian health officials say has killed more than 5,000 people. Israel also announced a "complete siege" on the enclave, withholding vital supplies of water, food and fuel.
Israel has since allowed some water to flow through one of the three pipelines that run into Gaza, but experts say it covers only a tiny percentage of the enclave's needs. Most of Gaza's water comes from local sources – but the fuel required to pump and clean it is fast running out.
As the water system collapses, some Gazans have been forced to drink dirty, salty water, sparking concerns of a health crisis and fears that people could start dying from dehydration.
Water production in Gaza is currently at 5% of normal levels, according to a UNICEF report from October 17, citing the Palestinian Water Authority (PWA).
Gazans are now living on less than 3 liters of water a day, according to the UN, far below the World Health Organization's (WHO's) recommended 50 liters as the absolute minimum needed to meet basic needs, including drinking, cooking and hygiene.
"The only water people have is essentially non-potable seawater mixed with sewage," said Natasha Hall, a senior fellow with the Middle East Program at the Center for Strategic and International Studies (CSIS). Some are being forced to drink from farm wells, according to the non-profit Oxfam.
Mazen Ghunaim, head of the PWA, said that without large-scale intervention, the lack of water will trigger a "humanitarian catastrophe."
There was a glimmer of hope this weekend when the first convoy of aid trucks loaded with water, food and medical supplies entered south Gaza through the Rafah crossing, on the border with Egypt.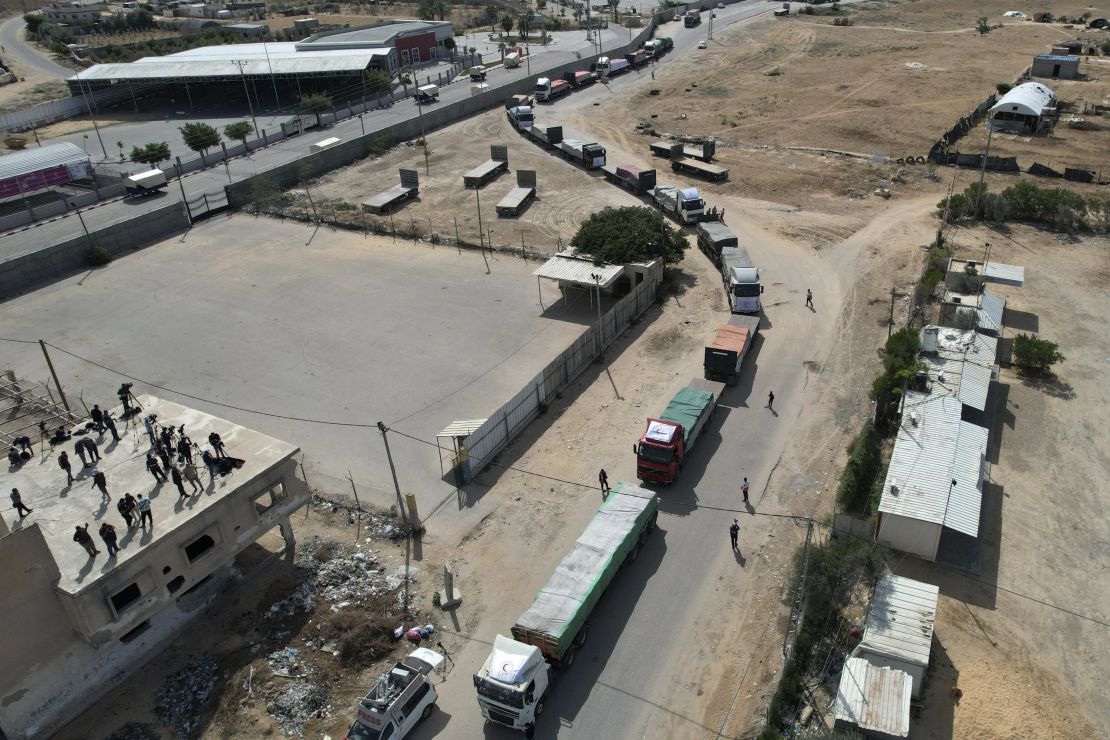 But Gaza received just 60,000 liters of water on Saturday, Ghunaim said. To cover the bare necessities of the 2.3 million people living in the enclave requires 33 million liters every day, he told CNN.
These first aid efforts are "just the initial drop in the ocean," said Richard Peeperkorn, the WHO's representative for the West Bank and Gaza.
One vital supply missing from the aid convoys has been fuel. Without it, Gaza's water system has crumbled.
"Fuel is water," said Hall of CSIS. "Cutting off fuel is cutting off water."
Water is a voracious energy user because it is so heavy, said Kellogg Schwab, a water and public health professor at Johns Hopkins University. Every liter weighs 1 kilogram (2.2 pounds). Moving water around "takes a massive amount of energy," Schwab told CNN.
For Gazans, no power means taps have run dry. "Even if you are lucky and have a well, you will not be able to pump (water) to high floors because we don't have electricity," Al Shanti said.
Many of the water trucks Gazans rely on to fill water containers are unable to reach people's homes because they lack fuel, and because of the bombardment, said Omar Shaban, founder and director of the Gaza-based independent think tank PalThink for Strategic Studies.
Making water drinkable also relies on fuel.
All five wastewater treatment plants and two of the three desalination plants have stopped working. The enclave's last remaining major desalination plant, which had been shut down for almost a week, resumed operations on Saturday but is at less than 7% of its usual capacity. While some smaller desalination units remain operational, these are local and far from sufficient.
Gaza's fuel supplies could be exhausted in as little as 48 to 72 hours, Ghunaim, from the PWA, said on Monday.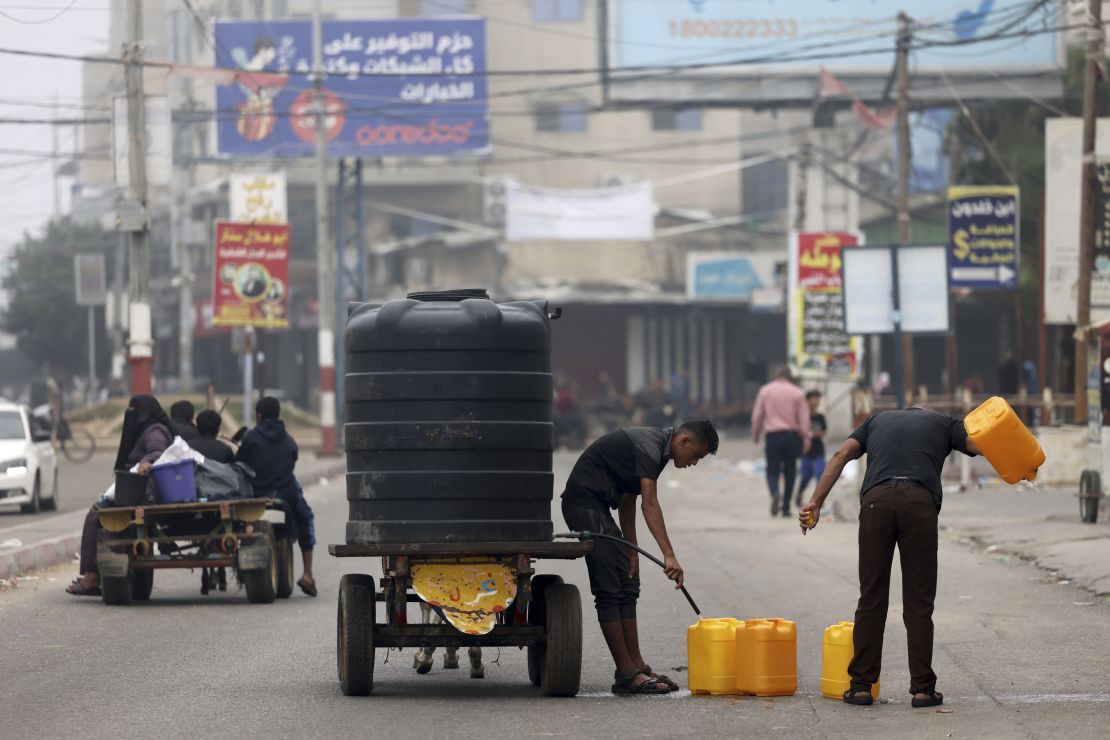 Concerns are mounting about disease. People are resorting to filling up containers and storing water as they try to eke out supplies. "That water can become re-contaminated so quickly," Schwab said. Sewage is accumulating in the streets and displaced Gazans are crowding into shelters that lack adequate sanitation.
Experts fear the spread of waterborne diseases like cholera and dysentery, which would put more pressure on a health system already teetering on the edge of collapse.
Hospitals face "an imminent water and sanitation crisis," Peeperkorn, from the WHO, said. Some have so little water, they are struggling to sterilize surgical equipment. 
CNN contacted COGAT, Israel's Coordinator of Government Activities in the Territories, for comment on the water and fuel situation in Gaza but has yet to receive a response.
Israel has repeatedly said fuel will be used for Hamas' war effort. "The government decision is that fuel doesn't go in because it will be stolen by Hamas and it'll be used by them to power rockets that are fired into Israel to kill our people," Mark Regev, senior adviser to Prime Minister Benjamin Netanyahu, told CNN on Monday. He said Israel would not allow fuel in even if all hostages were released.
However, chief of staff of the Israel Defence Forces, Lt. Gen. Herzi Halevi, has since suggested a softening of this position. "We will make sure there will be fuel in places where they need fuel to treat civilians. We will not allow the fuel for Hamas so they can continue fighting against the citizens of Israel," he said in a live TV address Tuesday afternoon. But he shared no details of when or how they would distribute the fuel.
International agencies warn that without fuel, safe drinking water will run out. "People will start dying of severe dehydration, among them young children," said Philippe Lazzarini, commissioner general of UNRWA, the UN agency for Palestinian refugees.
Access to clean water has long been one of the hardest challenges for those living in the Gaza Strip. The 140-square-mile territory is one of most densely populated places on Earth.
Gaza has three main sources of water: desalination plants, pipelines that carry in water purchased from Israel and groundwater wells.
Most of Gaza's water comes from a coastal aquifer, a body of underground water that stretches along the coastline of the eastern Mediterranean from Egypt's Sinai Peninsula up to Israel.
Around 97% is undrinkable; it's salty, brackish, and contaminated by untreated wastewater and pollution.
The aquifer has been over-extracted to serve Gaza's growing population. More than twice the amount of water is removed than is naturally replenished each year, and as the levels of freshwater drop, salty water from the Mediterranean has seeped in.
The climate crisis is also having an impact. Sea level rise will increase the salinity of the groundwater and more intense and frequent extreme weather events such as heat and drought further threaten water resources.
Israel's control over Gaza's water system has made the situation harder, Hall said, especially in terms of parts allowed into the enclave.
Items that are considered "dual use" – meaning they could also be used for military purposes – require special permission to be brought into Gaza. "Getting anything built, either in the West Bank or Gaza, in terms of water infrastructure is really, really difficult," Hall said.
Even before the conflict, many experts were saying the water situation would be "catastrophic in the future," Hall said.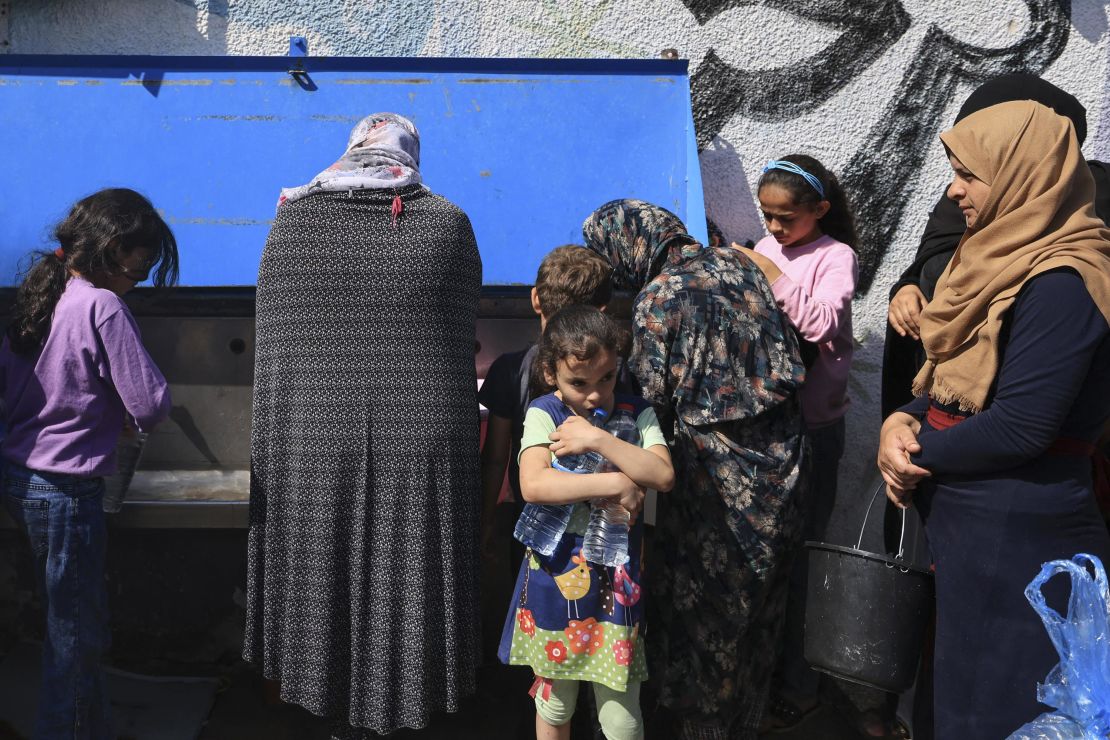 For people in Gaza, there is no escape as the crisis becomes more acute. Water shortages happen in conflicts around the world, but the reality is a lot of people just leave, Hall said. "When water dries up, they move and Gazans can't move."
For Um Haitham Hassan, who is living in an UNRWA tent in the southern city of Khan Younis, the situation is becoming untenable – she cannot wash her family's clothes or bathe her children. There is no water, the fuel is "completely cut off," she said.
"We have been humiliated," she told CNN. "All our clothes, our hair, our bodies are dirty."
"Where do we get water?" she asked.