Gaza and Jerusalem
CNN
 — 

Hamas released two Israeli citizens on Monday, according to multiple sources, amid growing pressure to secure the release of hundreds of hostages taken by the Gaza-based militant group during its brutal October 7 terror attack on Israel.
"I can confirm that my mother Yochi [Yocheved] Lifshitz was one of two hostages released to the Red Cross this evening. While I cannot put into words the relief that she is now safe," daughter Sharone Lifschitz said in a statement.
She said she remained focused on securing the release of her father, still believed to be in captivity.
Multiple sources named Nurit Cooper as the second hostage freed on Monday.
The militant group's fighters killed more than 1,400 people that day, according to the Israel Defense Forces (IDF), in what was the most deadly attack by militants in Israel's 75-year history and revealed a staggering intelligence failure by the country's security forces.
In response, Israel has bombarded Gaza, which Hamas controls, killing more than 5,000 people and injured more than 15,000 in just over two weeks, according to Palestinian health officials. The blasts have leveled entire neighborhoods, including schools and mosques, and devastated the already insufficient health care system.
The women were abducted from their homes in Kibbutz Nir Oz on October 7, a statement from Israel's prime minister's office said. Their spouses – Cooper's 85-year-old husband Amiram and Lifshitz's 83-year-old husband Oded – were kidnapped alongside them and are still held by Hamas, it added.
The statement praised the efforts that led to the release of the two women on Monday, thanking Egypt and the Red Cross for their assistance. "The IDF and the security forces have worked hard in the last few days in all channels to bring about their release and to overcome the many difficulties set by Hamas," the office's spokesperson said in a statement.
Hamas confirmed two hostages were released following Qatari and Egyptian mediation in a statement Monday. "[We] released the two detainees… bearing in mind that the enemy has refused since last Friday to receive them," Hamas spokesperson Abu Obaida said. "We have decided to release them for compelling humanitarian and health reasons."
The development follows Hamas' release of two American hostages — Judith Tai Raanan and her 17-year-old daughter Natalie Raanan – last week. A Hamas spokesperson at the time claimed that the two US hostages had been released "for humanitarian reasons" and to "prove to the American people and the world" that claims made by the United States government "are false and baseless."
Israel has recently widened its offensive against Hamas and its regional enemies, intensifying its bombardment of the besieged Gaza Strip, striking Hezbollah cells in Lebanon and targeting the occupied West Bank.
Hundreds were killed in Gaza after sustained aerial assaults on Monday morning, according to the health ministry in the isolated enclave, which is controlled by Hamas.
Overnight strikes killed at least 28 people and injured dozens of others in the southern city of Rafah, the Palestinian Ministry of Interior in Hamas-controlled Gaza said early Tuesday (local time). In earlier statements, the ministry said Israeli airstrikes also hit houses in other parts of Gaza overnight, including Beit Lahia in the north and Khan Younis in the south.
A small number of relief aid trucks have been allowed to cross from Egypt into Gaza since the weekend, but relief agencies warn that the current rate of delivery will do little to address the needs of 2 million people living in the enclave.
Israeli strikes appear to be ramping up; overnight blasts on Sunday were among the most sustained bombardments of northern Gaza in the past two weeks, according to a CNN team on the ground in southern Israel. They came as the Israel Defense Forces (IDF) prepares for a potential ground operation in the besieged territory. Huge numbers of troops and tanks have already massed at the border.
Israel is preparing for a "multilateral operation" on Hamas from the "air, ground and sea," Israeli defense minister Yoav Gallant said Monday. After touring the Ashdod Navy base, Gallant released a video statement instructing Israel's soldiers to "get ready."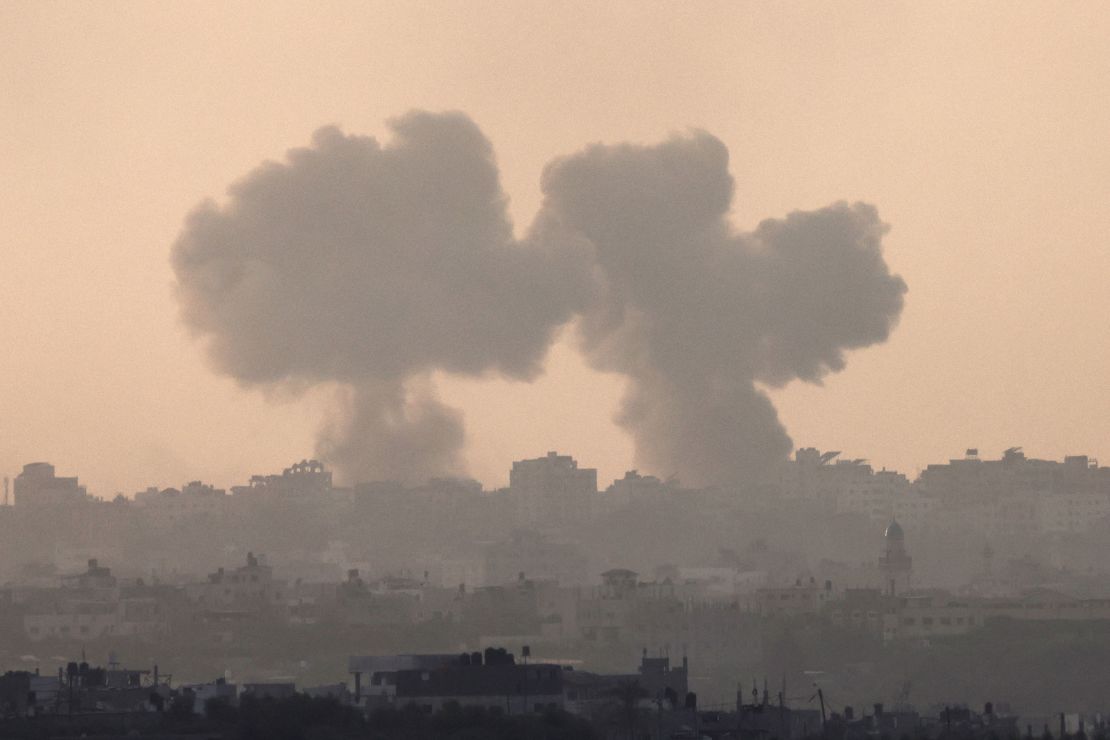 CNN previously reported that the Biden administration has pressed Israel to delay its imminent invasion of Gaza to allow for the release of more Hamas hostages and aid into the enclave.
A number of foreign nationals were among those kidnapped by Hamas, including people from the US, Mexico, Brazil and Thailand.
Information about the status, location and identity of all the hostages remains scarce. Some have been identified by families who recognize them from online videos, sparking desperate pleads for their return.
US President Joe Biden, Secretary of State Antony Blinken and UK Prime Minister Rishi Sunak have flocked to Israel amid growing pressure on world leaders.
In a statement on Friday, Hamas said it was working with mediators in Egypt, Qatar and other "friendly countries" to release foreign nationals.
Amid efforts to free the hostages held by Hamas, a senior Israeli official told CNN Sunday there will be "no ceasefire" in Gaza.
A total of 34 trucks filled with desperately needed aid traveled into Gaza from Egypt over the weekend. But none carried fuel supplies, which is vital for running hospitals and treating water in the isolated territory. Israel has said fuel would be purloined by Hamas.
A further 20 trucks crossed Rafah into Gaza on Monday, according to the UN Office for the Coordination of Humanitarian Affairs (OCHA). But UN spokesman Stephane Dujarric warned that the current aid provisions reaching Gaza were "a drop in the bucket."
"No fuel means no functioning water desalination. No fuel also means that humanitarian partners will have to focus almost their entire aid delivery operation on transporting water. It also means no bakeries and no hospitals," the OCHA statement declared.
Aid workers and international leaders warned that the supplies were insufficient to combat the "catastrophic" humanitarian situation in Gaza, while the Palestine Red Crescent Society said it is a "drop in the ocean" of what is needed.
The territory normally receives 455 aid trucks per day, according to the United Nations. That means that with the weekend deliveries, Gaza is more than 7,200 truckloads of aid short of what would normally have been received between October 7 and October 22, CNN calculations suggest. That's half of 1% – or one two-hundredth – of the amount of aid it ordinarily gets.
As the situation in the strip gets increasingly dire, doctors in Gaza hospitals are being forced to operate without morphine or painkillers due to shortages, according to Leo Cans from Doctors Without Borders.
"We currently have people being operated on without having morphine. It just happened to two kids," said the head of mission in Jerusalem for the group also known as Médecins Sans Frontières.
Cans also acknowledged CNN's reporting on parents who have resorted to writing their childrens' names on their limbs in the event that either they or the children are killed.
Medical professionals have also described "catastrophic" conditions at one central Gazan hospital as electricity and fuel supplies run out and crippled medical facilities rapidly become overwhelmed with casualties.
Dr. Iyad Issa Abu Zaher, director general of Al-Aqsa Martyrs Hospital in Gaza, described a "bloody day" for his staff to CNN on Sunday, saying the hospital had received up to 166 bodies and more than 300 injured people.
"It's impossible for any hospital in the world to admit this number of injured," he said.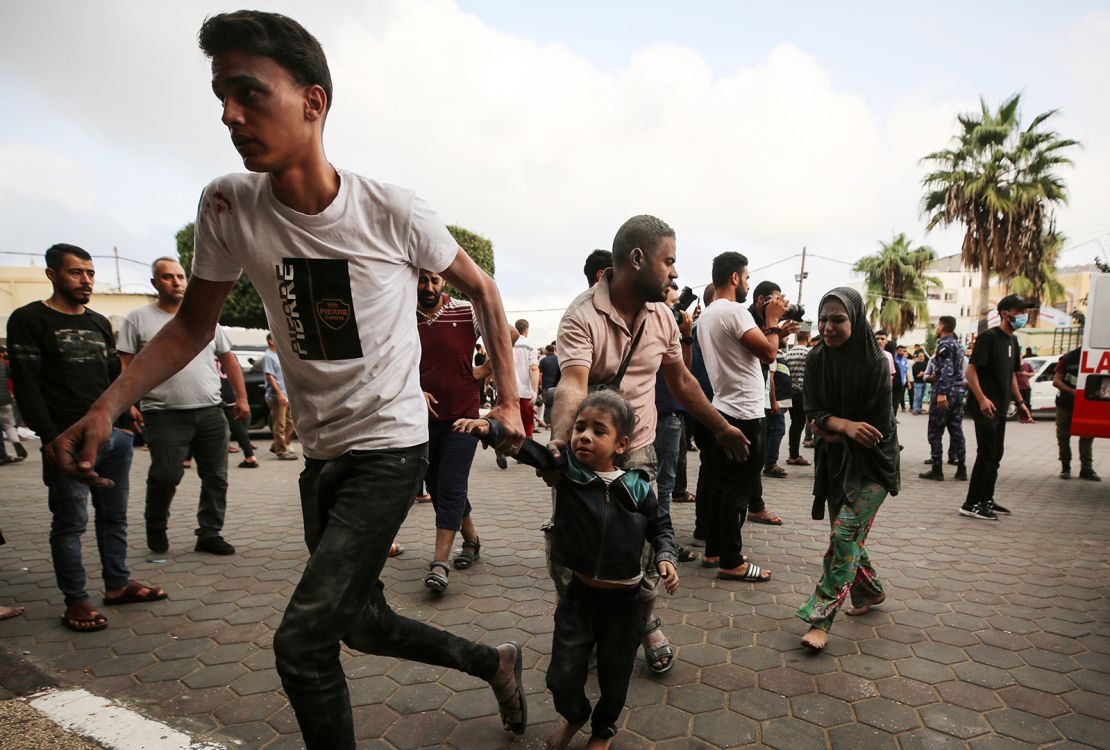 Videos obtained by CNN showed the hospital receiving more than a dozen bodies wrapped in shrouds, while grieving family members tried to identify them.
At another Gaza hospital, doctors have warned that most of the critically ill infants relying on ventilators in the neonatal unit will die if the electricity supply is interrupted.
"If the electricity is stopped, there will be catastrophic events inside this unit," said Dr. Fu'ad al-Bulbul, head of the neonatal department Unit at Al-Shifa hospital in Gaza, in a video released by the Health Ministry in Gaza.
"We can save only one [or] two babies but, we cannot save all babies."
Over the weekend, Israel called once again for civilians to leave northern parts of the strip – a warning that was condemned by the World Health Organization and which the Palestinian Red Crescent said amounted to a "death penalty for patients."
Residents who chose to remain behind told CNN that no place was safe in the Gaza Strip amid Israel's heavy bombardment.
At least 26 people were killed in Israeli strikes on the Jabalia refugee camp – one of the largest in Gaza – the director of the Indonesian Hospital in Gaza, Atef Al Kahlout told CNN. In the southern city of Rafah, 29 people were killed after four houses were struck, according to the Ministry of Health in Gaza spokesperson Ashraf Al Qidra.
Large plumes of smoke were seen rising from the Gaza skyline after Israeli airstrikes on the strip, a live feed on Al-Jazeera showed. Reuters showed a large smoke cloud rising from Gaza and seen from southern Israel.
The bombs hit buildings in Rafah, Khan Younis, central Gaza and Gaza City, including homes, the Palestinian Interior Ministry in Gaza said. The IDF said on Monday that it struck 320 "terror targets" in Gaza, including tunnels and "dozens of operational command centers" belonging to Hamas and Islamic Jihad.
"They want us all dead, they are whipping Gaza, this has nothing to do with a war against Hamas," one resident of Jabalia, Mahmoud, said.
"My mother is paralyzed, she refuses to evacuate and says there is no safe place," he said.
Another resident of Jabalia, Mohammad Salama, said he lost 18 family members in a strike on Monday morning, mostly women and children.
"There are no terrorists here, I swear on all my family members that I lost today, it's only innocent civilians," Salama said.
On Sunday, Hamas and Israeli forces engaged in limited clashes inside Gaza – in what is believed to be one of the first significant skirmishes on the ground inside the strip since the Islamist militants' October 7 attack on Israel that killed more than 1,400 people, mostly civilians.
An IDF soldier was killed and three others were wounded during an operation in the area of Kibbutz Kissufim near Gaza on Sunday, according to IDF spokesperson Daniel Hagari. Earlier, Hamas said its fighters had destroyed two Israeli military bulldozers and a tank in an ambush near the Gazan city of Khan Younis, forcing Israeli troops to retreat without their vehicles.
The United States and its allies have urged Israel to be strategic and clear about its goals during any ground operation in Gaza, warning against a prolonged occupation and placing an emphasis on avoiding civilian casualties, although the past two weeks have seen more people killed in Gaza than during any previous conflict with Israel.
The mounting death toll has sparked growing protests across the Middle East and further afield as social media fills with imagery of the devastation Gazans are living through.
On Sunday, US President Joe Biden made a flurry of calls to world leaders, including Israeli Prime Minister Benjamin Netanyahu, about the ongoing conflict and amid efforts by US officials seeking to keep it from widening.
The White House said Netanyahu and Biden "affirmed there will now be a continued flow" of humanitarian assistance to Gaza during their call.
In pictures: The deadly clashes in Israel and Gaza
As Israel readies its troops around Gaza, its military has also been engaged in flare-ups elsewhere, with increasing violence in the occupied West Bank and on its northern border with Lebanon.
The IDF has launched a series of raids and arrested dozens of alleged Hamas members in the West Bank since the attack on Israel earlier this month.
Two Palestinians were killed after Israeli forces raided the Jalazoun refugee camp near Ramallah on Monday, according to a statement by the Palestinian Ministry of Health.
The Monday raid brings the total of those killed since October 7 in the occupied West Bank by both the IDF and Israeli settlers to 95, the ministry said.
The IDF told CNN that 15 wanted suspects were apprehended in the raid, 10 of whom it claimed were Hamas operatives, and that weapons and ammunition had been found.
On Sunday, the IDF launched an airstrike on the Al-Ansar mosque in the West Bank refugee camp of Jenin, which it said was being used by militant groups to plan for "an imminent terror attack."
It would not say whether the strike came from a jet, in what would be the first fighter jet strike in the West Bank in nearly two decades.
Meanwhile, late Sunday and into Monday, the IDF said it struck cells belonging to the Lebanon-based Hezbollah, an Iran-backed paramilitary movement, on the Lebanese side of the border, which it said had planned to launch attacks on Israel.
Netanyahu warned Sunday that if Hezbollah decides to enter the war, it will be crippled "with a force [it] cannot even imagine."
This story is developing and will be updated.